This satisfying morning meal consists of savory and fluffy, gluten-free vegan pancakes with a hearty tofu and kale scramble. It's so good that you'll want to eat it all day. I'm so happy to share with you the recipe and tips for creating the ultimate savory vegan breakfast for dinner.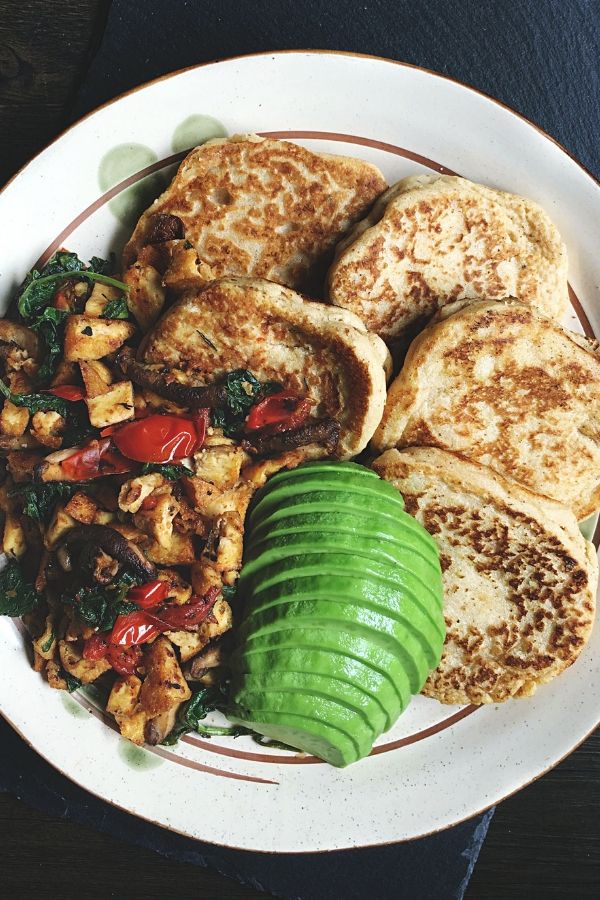 I love a good oatmeal bowl in the A.M. but savory vegan breakfasts are such a satisfying alternative to the usual sweet options.
I've made this delicious combo countless times to the point where any leftovers became that night's dinner. But it's so comforting and flavourful that my tastebuds really didn't know the difference.
These fluffy pancakes are so addicting, super easy to make and best of all gluten free! They are paired with a delicious and equally simple tofu scramble with grape tomatoes and kale. Plus some avocado on the side because YUM!
This is not only for vegans but even vegetarians can enjoy having this for breakfast. Tofu is high in protein which helps keep you full throughout the morning but much lower in cholesterol than eggs.
How to make tofu delicious
I'll be honest, I never liked tofu until I moved to Japan. Although it was the most convenient source of protein while vegan, which led me to eating lots of it, I managed to quickly learn something about it:
The key to getting really flavourful tofu is seasoning generously. Sounds obvious right? But it's true and I get asked about that so many times.
My tip when getting started with tofu is to find a high quality brand of a firm or extra-firm type. Then marry that with your favourite good quality all-purpose seasoning, mine is McCormick's Roasted Garlic and Herb.
I'm not sponsored by them, but I love the stuff and have been using it for years. Choose a low salt brand of seasoning if you're concerned about sodium intake but don't skimp on the spices.
The problem with medium and soft tofu is that they have a much higher water content. This tends to dilute the flavour of your spice blend, resulting in bland tasting tofu.
So I recommend sticking with the firm variety if you can or pressing the medium type to release some additional water. No fancy tofu press needed (unless you're tofu-obsessed).
Homemade Tofu Press
Making a tofu press at home is easy. A neat trick is to take a clean, fuzz-free dish towel and fold it to the size of the tofu block. Then put the towel on a plate, put the tofu on top, then another towel, then a plate or small pan.
Next, add some weight to the plate or pan. I usually use a can or 2 of beans.
Leave this for about an hour or 2 (or overnight in the fridge for best results). If the towels get soaked quickly, simply remove them, wring them out then reassemble.
This is great if you plan your breakfast the night before, but if you're not that kind of organised then, again, get some firm tofu.
How to make gluten free vegan savory pancakes
I have a homemade all-purpose gluten free blend from my baking days that includes brown rice flour, potato starch, tapioca flour and sweet rice flour.
It works well for me in most applications (I might discuss it in more details in another post). But for convenience, you can purchase an all-purpose premade blend for these pancakes.
Some basic gluten-free flours brands I've heard good results about are Bobs Red Mills and Pamela's Products but I haven't tried them personally so I'm not sure of the exact results in this recipe.
Please note, however, that different blends may absorb liquids differently so gradually add your liquid to the flour mix and adjust for less or more as needed. If you try this, please let me know how it worked out for you.
I do still recommend adding almond flour to your blend to give the pancakes a rich, buttery taste. It also helps offset any possible gumminess in the pancakes, which can sometimes happen with certain gluten free flour blends.
If you can't find almond flour try measuring out and blending whole dry almonds. It's the same thing!
For that delicious savoriness, I used garlic powder, salt, pepper and a bit of ground chipotle for a smoky, spicy kick.
When cooking the pancakes, I recommend not pouring more than the 3 tablespoons of batter as the resulting pancakes might become more dense than fluffy.
More delicious vegan breakfast ideas:
Tofu Scramble with Gluten-free, Vegan Savory Pancakes
This satisfying morning meal consists of savory and fluffy, gluten-free vegan pancakes with a hearty tofu and kale scramble, so good that you'll want to eat it all day!
Rate this Recipe:
Print Recipe
Pin RECIPE
Ingredients
Gluten-free Savory Pancakes
1/2

cup

gluten free flour,

(50g)

1/2

cup

almond flour,

(50g)

1/2

tsp

baking powder

1/2

tsp

baking soda

1/4

tsp

salt

1/2

cup

water

,

(100ml)

1/2

tbsp

apple cider vinegar

1/4

tsp

garlic powder

1/8

tsp

ground chipotle,

optional

black pepper to taste

1 to 2

tbsp

oil
Tofu Scramble
2

tsp

oil

,

optional

5

oz

firm tofu

,

(150g)

2 to 3

mushrooms

4

grape tomatoes

1-2

tbsp

all-purpose seasoning

1/2

tsp

thyme

3

stalks

kale

,

(about a handful or 2 of only leaves)

salt and pepper to taste
Instructions
Pancakes
Combine dry ingredients in a bowl. Separately combine liquid ingredients and gradually stir into dry ingredients. Mix until a smooth but thick cake-like batter is formed.

Heat a frying pan then add 1 tbsp oil. Pour in 3 tbsps batter for each pancake. Cook until brown on each side. Ensure the centre is cooked through. Use more oil if needed for the remaining pancakes. You should get about 5-6 mini pancakes.
Tofu Scramble
Dice or crumble tofu, slice mushrooms, cut tomatoes in half and remove leaves from kale stalks.

Reheat frying pan and add oil (the oil can be skipped if you're using a non-stick pan). Add mushrooms and cook until browned. Next add tofu and seasonings. Stir until it starts to brown.

Then add tomatoes and kale and cook for about another minute, adding salt and back pepper if needed. Remove from heat and serve with pancakes and some sliced avocado.
This post contains affiliate links. As an Amazon Associate I earn from qualifying purchases. Amazon Disclosure