19 Vegan Soul Food Recipes
Southern food is an extremely comforting cuisine, with classic recipes and flavors that everyone will love. These vegan soul food recipes bring meatless ingredients to some well-known dishes.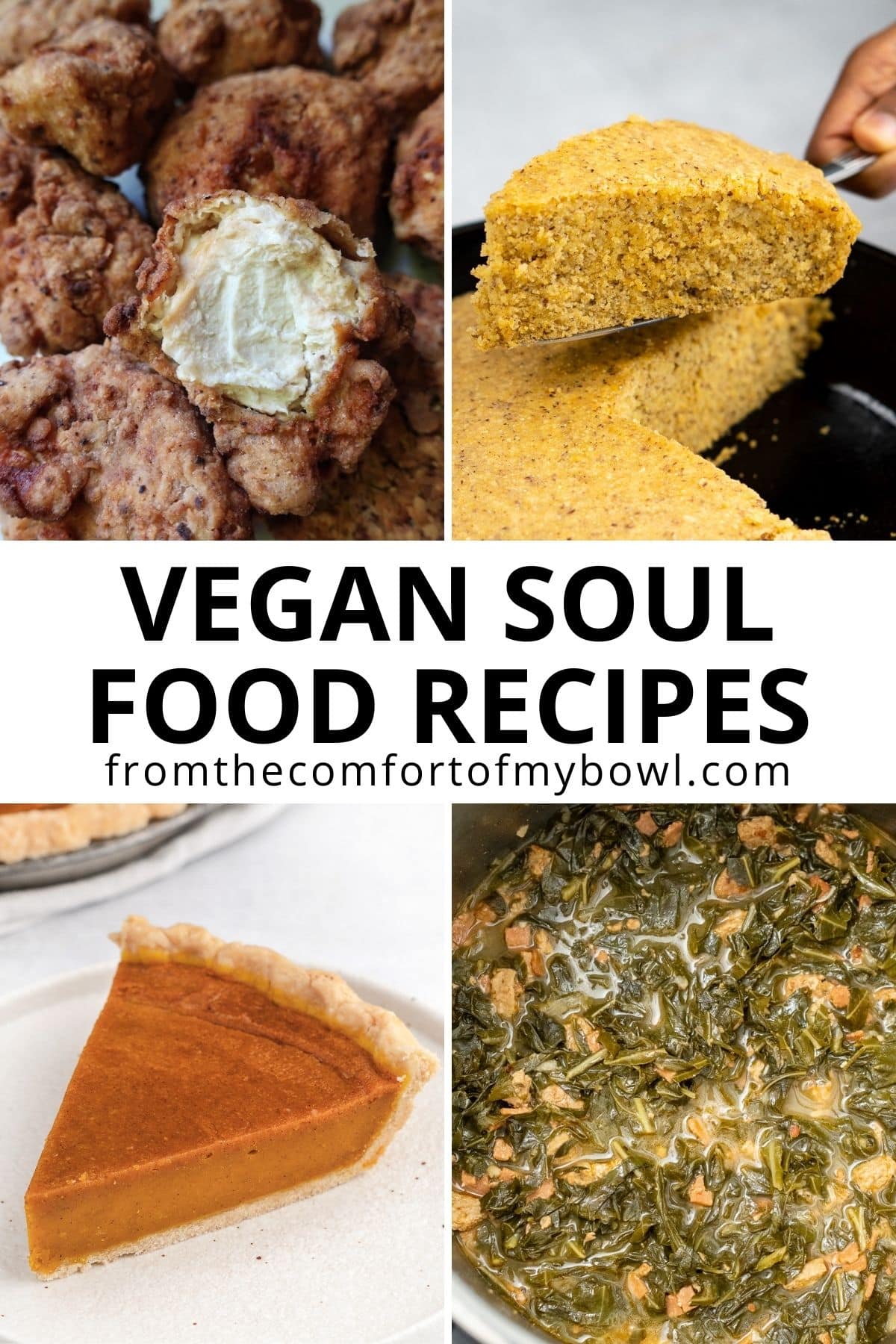 Most Southern recipes feature rich flavors and simple ingredients to create something unique and comforting.
Soul food is an especially beloved type of Southern food, the down-home cooking of African-American culture passed down for generations.
Each of these recipes has kept the heart and soul of the food while converting the ingredients to be completely vegan.
19 Vegan Soul Food Recipes To Remind You Of Home
Black-eyed peas are small white beans with an "eye" in the center, and this dish is especially popular in South Carolina and for New Year's Day.
Southern tradition states that you won't have good luck for the year unless you eat Black-eyed peas on New Year's Day, so be sure to bring a pot of these hearty legumes to your New Year's party!
This version cooks faster in an Instant Pot. It helps meld and infuse the flavors even better. Vegan bacon brings smokiness to this dish.
Cooking this dairy-free cornbread in a cast-iron skillet is about as Southern as it comes.
This staple bread is moist with a crispy crust and has no added sugar to keep it from being too sweet. It's the perfect side dish for just about any Southern meal.
This vegan version of the classic Southern side dish keeps the smokiness and cuts down the cooking time using an Instant Pot.
The resulting collards are tender, and as a bonus, you'll have a lot of potlikker, the rich, savory, smoky broth that can be sipped as soup or even spooned over rice and cornbread.
Another classic soul food side dish, this Hoppin' John is honestly filling enough to serve as a main course.
The rice and red peas recipe is a traditional South Carolina dish, often served as part of New Year's Day.
It is said to be named after an older man named John, who sold peas and rice in Charleston, South Carolina.
Many modern recipes call for black-eyed peas, as they are easier to find in grocery stores, but it's worth tracking down the traditional red field peas.
This vegan pecan pie recipe will become a staple of your own Thanksgiving traditions.
The crisp and flaky crust contrasts with the creamy, rich interior and buttery pecans.
Serve with a scoop of dairy-free vanilla ice cream for the perfect Southern dessert.
Cajun flavors take over in this vegan version of Red Beans and Rice. This rich stew is packed with spice and smoky flavors, traditionally served with rice.
It's a soul food classic perfect for family dinners and a great go-to for a large crowd. Aside from being dairy-free, this dish is also naturally gluten-free.
A flaky puff pastry crust (all dairy-free, of course!) sits atop a rich, creamy interior.
Mushrooms are a wonderfully flavorful substitute for meat. This pot pie can be put together quickly with frozen veggies, cutting down on prep time.
It's a hearty Southern comfort food perfect for any time of year, especially when the weather gets chilly.
Hearty Cajun spices make this Southern classic a family favorite. It is the ultimate one-pot meal.
This vegan version has all the smokiness and traditional flavors as the original recipe due to flavorful vegan sausages.
Hearty and rich stews are a Southern soul food tradition. This vegan sweet potato chili can be made on the stove, in a slow cooker, or even in an Instant Pot.
Besides being meatless, this recipe is naturally gluten-free, making it an excellent choice for a crowd.
Dairy-free creamy pumpkin filling sits inside a flaky vegan crust. This pie is sure to delight everyone at your Thanksgiving celebration.
Japanese pumpkin or kabocha squash is used in this recipe for its rich flavor and added stability. This Southern dish is a staple fall dessert that hits all the familiar notes.
A uniquely Southern dish, sweet potato pie takes a root vegetable and turns it into a sweet treat.
This pie with West-African roots first appeared in Southern cookbooks in the 18th century, and family recipes have been handed down through generations.
Your next holiday celebration will be complete with this dairy-free dessert.
Grits are classic soul food made of simple ground corn that serves as a base for various flavors.
The Cajun flavors in this vegan version make it a hearty and warm breakfast dish. The grits are easy to make and require patience and consistency for the perfect bowl.
Fried chicken is one of the most well-known Southern dishes, and this vegan version made with tofu is better than fast-food takeout!
A unique technique using medium-firm tofu creates a flaky texture like chicken, and the coating fries up delightfully crispy. You won't miss the meat at all in this dish!
A hearty breakfast is a Southern tradition, and biscuits and gravy might be the most popular.
Buttery, flaky biscuits are served with a flavorful mushroom gravy that vegans and vegetarians alike will love.
This recipe makes just enough for two but can easily be scaled up for a crowd!
This creamy mac and cheese takes an eternal favorite and makes it vegan! This recipe is entirely cashew and nut-free, making it a perfect choice when food allergies are involved.
Potatoes and carrots add creaminess and color, while nutritional yeast brings the "cheesy" flavor to a thick, rich sauce.
The sauce from this recipe can also be used in many other dishes!
Carrots and spices in a moist cake topped with fluffy vegan cream cheese frosting make this famous Southern dessert a go-to for special occasions.
This version has been tried and tested more than 100 times, so this dairy-free cake is a foolproof option when you need a soulful dessert.
You might think the classic Southern pulled pork sandwich is impossible to recreate with vegan ingredients.
Still, this recipe has done it without using jackfruit, a popular replacement for meat but often difficult or impossible to find.
Flavorful oyster mushrooms replace pork, and the homemade barbeque sauce is rich and smoky.
You will surely find your next favorite recipe from this list of delectable vegan Southern dishes. With some simple ingredients and great techniques, you're on your way to delicious, hearty soul food.