These air fryer cauliflower wings are crunchy on the outside and tender on the inside. They are coated with teriyaki sauce for a tasty bite.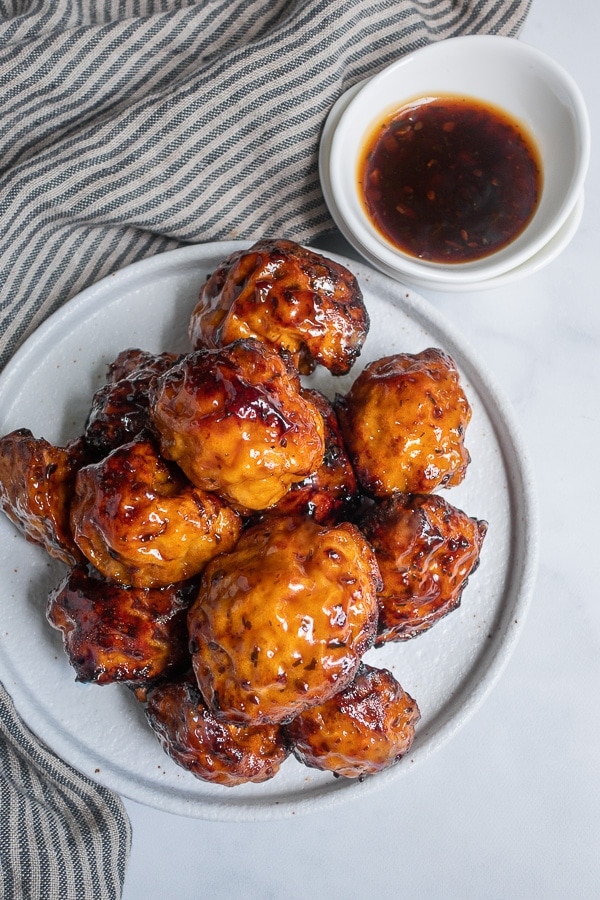 Vegan air fryer cauliflower wings are a relatively healthy alternative to the deep-fried, non-vegan versions. They are just as satisfying and curbs your craving for fried food.
Air frying cauliflower results in perfectly crispy florets, while using very little oil. The teriyaki sauce is sweet and savoury at the same time and adds a ton of umami flavour.
A great game-day appetizer and you only need less than 10 ingredients. So get ready to bust out that air fryer!
Key Tips to Follow
1. Make sure your cauliflower florets are dry after rinsing. If they are wet, the batter will not adhere properly. You may end up with a few bald spots when cooking in the air fryer.
2. Shake off excess batter. To avoid a goopy mess at the bottom of the air fryer tray or basket, be sure to shake off any excess batter off the cauliflower florets.
3. Oil the tray or basket. Not all of them are non-stick so it's a good idea to apply a bit of oil to prevent the cauliflower from sticking. A light brush or spray will do.
4. Keep a little distance between the cauliflower florets. This allows each edge and crevice to brown and crisp up beautifully!
Ingredients You'll Need
Grab the following ingredients to make this recipe:
Cauliflower florets - A small head of cauliflower should give you about 10 to 12 pieces. Cut off the leafy base. Next cut through the stems of already the separated florets.
All-purpose flour
All-purpose seasoning - I like using this roasted garlic and herb seasoning or this vegetable bouillon
Plant-based milk - I used soy milk
Teriyaki sauce - This one by House of Tsang is my favourite but any brand with a thick consistency can work.
Chili or cayenne pepper (optional)
Oil or cooking spray
How to Make Vegan Air Fryer Cauliflower Wings
Here are the basic steps:
1. Make a thick batter by combining all the ingredients except the cauliflower, teriyaki sauce and oil.
2. Dip the rinsed and dried cauliflower florets into the batter.
3. Place each one on a lightly oiled air fryer tray or basket. Line them up on the tray so they do not touch.
4. Cook for 10 to 15 minutes in an air fryer preheated to 400°F (204°C). Set aside on a plate. Repeat with the remaining cauliflower.
5. Dip the air-fried cauliflower florets into the teriyaki sauce and place them back onto the tray.
6. Air fry for another 3 to 5 minutes or until the sauce becomes stickier. Repeat with the remaining pieces.
7. Serve warm.
Recipe Variations or Substitutions
Variations:
For a buffalo-style version, try the sauce from my Vegan Buffalo Chicken recipe.
Try this recipe using oyster mushrooms, similar to my Fried Oyster Mushroom recipe.
You could also try cauliflower wings with a wide variety of sauces including barbecue and sweet chili.
Another variation is to try tossing the cooked cauliflower wings in a dry rub.
A few options are lemon pepper (lemon zest, salt, black pepper), Cajun seasoning (paprika, onion powder, garlic powder, dried herbs, black pepper, salt) or create your own!
To get the dry rub to stick, lightly coat the cooked cauliflower with some cooking spray.
Substitutions:
If you are on a gluten-free diet, you can use all-purpose gluten-free flour and gluten-free teriyaki sauce.
If you like seitan, it's a great substitute to use when making vegan wings as it has somewhat of a "meaty" texture.
Can this recipe be prepared in advance?
Sure this recipe can be made in advance. The cauliflower keeps for 4 to 5 days in the refrigerator and crisp up beautifully when reheated in your air fryer.
You could also prepare the batter a day in advance if needed. Store in an airtight container in the refrigerator.
Storage Suggestions
To store in the refrigerator, place them in an airtight container. They will keep for 4 to 5 days in the fridge.
They also keep well in the freezer. You can store them for 10 to 12 months.
Set them on a parchment-lined baking sheet in the freezer. Once frozen within a couple of hours, place them in a plastic bag and seal. Label with the date.
How to Reheat
Pre-heat your air fryer to 375°F (190°C).
If they were stored in the fridge, reheat for 3 to 4 minutes. If they were frozen, cook for 15 minutes.
They will come out warm and crispy, just like when you first made them!
Serving Ideas
Fresh vegetables, like julienned carrots, celery, and cucumber
A salad with leafy greens
Vegan Coleslaw
French fries or roasted potato wedges
More vegan appetizer recipes
Ingredients
10

fresh cauliflower florets

,

from one small head of cauliflower, about 250g

½

cup

all-purpose flour

½

teaspoon

all-purpose seasoning

½

cup

plant-based milk

½

cup

teriyaki sauce

¼

teaspoon

chilli or cayenne pepper

,

optional

1

tablespoon

oil

,

or cooking spray
Instructions
Preheat the air fryer to 400°F (200°C).

In a bowl, combine the flour, all-purpose seasoning and chilli pepper. Gradually stir in enough plant-based milk to make a thick and smooth batter.

½ cup all-purpose flour

,

½ cup plant-based milk

,

¼ teaspoon chilli or cayenne pepper

,

½ teaspoon all-purpose seasoning

Rinse and drain cauliflower then dip each piece into the batter, coating completely. Shake off the excess batter then place on an air fryer tray or basket coated with oil or cooking spray. Place them in one layer, without touching.

10 fresh cauliflower florets

,

1 tablespoon oil

Place the tray in the air fryer and cook for 10 to 15 minutes until golden brown. Remove the pieces, set aside and repeat with the remaining batch.

Dip each piece of cauliflower in teriyaki sauce. Place back on the tray and into the air fryer for another 3 to 5 minutes or until the sauce becomes stickier.

Repeat with the remaining pieces and serve warm.
Notes
All-purpose gluten-free flour blend can also be used and gluten-free teriyaki sauce.
For a buffalo version, try the sauce from this Vegan Buffalo Chicken recipe.
Tried this recipe? Upload a photo in the comments below!
If you enjoyed it, please consider leaving a rating. It really helps the blog.
Nutrition
Calories:
287
kcal
|
Carbohydrates:
41
g
|
Protein:
11
g
|
Fat:
9
g
|
Saturated Fat:
1
g
|
Sodium:
2810
mg
|
Potassium:
473
mg
|
Fiber:
3
g
|
Sugar:
13
g
|
Vitamin A:
336
IU
|
Vitamin C:
36
mg
|
Calcium:
135
mg
|
Iron:
4
mg
Nutrition Disclaimer
This post contains affiliate links. As an Amazon Associate I earn from qualifying purchases. Amazon Disclosure